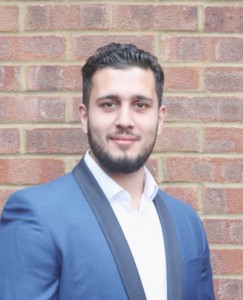 Glenman and Frencon staff give back to university undergraduates with advice and support on their career choices.
Milaad Maarij, Design Coordinator is one of Glenman's rising stars. He views providing a personal, meaningful impact by inspiring a future generation of construction professionals as just as important as developing his career.
At Glenman we fully support giving back and empowering our staff to do so. To date, with Glenman's support, Milaad has delivered presentations to over 75 students pursuing their undergraduate studies in Construction Project Management at University College London and West London University. He's given them insights on his day to day responsibilities as a design coordinator and answered their questions on his experience of finding employment and working on Glenman projects; resolving design challenges to deliver modern, contemporary building assets for our clients in the education, health and social housing sectors.
Milaad is also a Chartered Institute of Building (CIOB) Novus Representative.  Novus is a CIOB initiative to prepare young people to be the next generation of construction industry leaders and provides a direct link from undergraduate to Chartered membership. Milaad has shared useful tips on the benefits of becoming a student member of the Chartered Institute of Building (CIOB) such as access to study materials and the networking and learning opportunities that come along with membership.
Milaad holds a MEng (Hons) Civil Engineering (University of Greenwich)
Micheál Conneally Contracts Director: "Well done to Milaad.  Helping students to think about life beyond university, how to view the working world and operate within it is, for Glenman, a worthwhile cause and we are committed to providing a supportive environment to all our staff to do so.  It has also enabled Glenman to understand how to best appeal to a generation with different expectations and aspirations and how to nurture this emerging talent stream."

Milaad Maarij: "The opportunities provided to me by Glenman Corporation have included both professional and personal development. Presenting and facilitating career workshops to undergraduates has meant that I've been able to give back to a cause that's important to me and has developed my presentational and leadership skills. It's a privilege working for a company where senior management champion career development and appreciate and value their employees."